Paint coating thickness meters are responsible for undertaking a pretty important job. Measuring coating thickness can be essential for quality control, material testing, paint inspection, shop work, used car markets, industrial lacquering, and so forth. Depending on the type of tasks you have in mind, finding the right thickness gauge usually isn't tough.
Cheapest & Affordable Best Paint Film Thickness Gauge
In some ways, the most challenging part of selecting the right gauge is sorting through your options. Fortunately, there are some simple ways to help narrow down your selection quickly. You can keep your search on the right track by thinking about four primary elements:
Material Support
What types of materials are you testing? If you want to measure powder coating thickness, then you'll want to look for an instrument that can use magnetic or eddy current measurements. If you're working on a wooden substrate, you would want an ultrasonic gauge.
What about chrome? Aluminum? Enamel? Rubber? What about on magnetic substrates like iron or steel? It's important to pay attention to material support because not every coating thickness gauge is capable of the same readings.
Instrument Accuracy
Tools that help you measure things will provide different levels of accuracy. Entry-level equipment tends to provide a kind of ballpark accuracy that's good enough for most applications. For people working in their shop at home, getting your measurement within a few percent of accurate is probably going to be enough. For commercial or industrial applications, higher levels of accuracy can be necessary.
Ease of Use
Paint coating thickness meters are not always intuitive to use. Ask yourself, is the interface approachable? Is the display readable? It may also be helpful to think about how often the instrument will be used by someone who's unfamiliar with it.
Small problems with ease of use can compile when students or other non-proficient users are operating the instrument, or when the instrument is being used with higher levels of throughput.
Data Entry
Okay, you've collected your readings. What can you do with the data now? Do you have to write those figures down on paper, or punch them into Excel by hand? Sometimes a paint coating thickness gauge will include its own support software, allowing you to upload or export data to a PC. Other times, instruments are made so that recording data is between you and a pencil.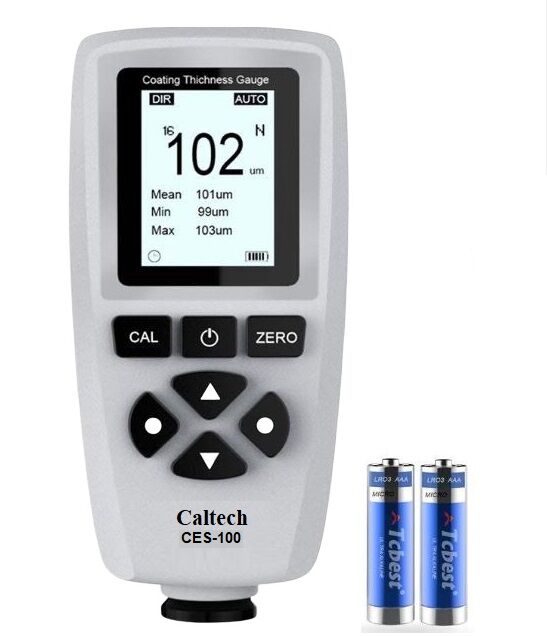 The CES-100 Paint Film Thickness Gauge was made specifically for nondestructive measurements. For appraisal, it makes special use of automatic, magnetic, and eddy current measurements. Though that clearly has a variety of different potential applications, it's pretty ideal for appraising cars
After you've taken measurements, the CES-100 Paint Film Thickness Meter can send your data to a PC pretty easily. And recorded measurements range between 0 to 1400um, with an accuracy of about 3% or 1um. The minimum area you can measure is 6mm, pretty small. The minimum curvature radius for a convex curve is 5mm, or 25mm for a concave curve.
Build & Design
The CES-100 Dry Film Thickness Gauge measures roughly 4.3 x 2.0 x 1.0 inches, which is pretty handheld. The front of the instrument is fairly intuitive; there are four arrow keys alongside three well-labeled function buttons. You probably don't need to flip through the user manual to figure out what the "zero" button does.
About half of the entire device is covered by the display, a 128 x 128 dot matrix LCD. On the display, your data resolution reads out to 99.9um — giving you 0.1um intervals for each reading
It also provides plenty of room to sort through various menu options, and for displaying the max data, min data point, standard deviation, and the mean.
The display also provides an error indicator if you can't get a clear measurement, and a low battery indicator to help keep your instrument in action. There's a zeroing function and a multi-point calibration feature you can use for every testing group you establish. Additionally, you can setup low or high alarm limits for any particular profile you create.
Because there are four profile groups you can create, it's possible to separate data groups and non-data groups. Each group can have its own alarm settings, special limits, and even its own calibration. In other words, you can take data readings without having them stored to memory.
If you do decide to save your data, then this instrument can handle about 320 readings. After that, you'll need to clear your saved data.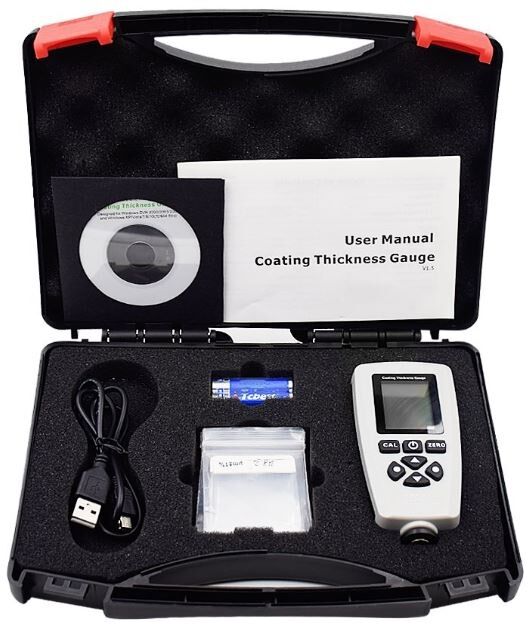 Other Considerations
There are two separate measure modes you can select between. The first is single mode, and the second is continuous mode. The single mode lets you take individual measurements. Pretty handy for when you know just where you want to aim the device. The continuous mode is good for taking a constant stream of measurements. If you want to run the thickens gauge along a lengthy area of a paint job, the continuous mode can be handy to have.
This kit includes the coating thickness gauge, an aluminum substrate, USB cable, pair of AAA batteries, iron substrate, software disc, tool kit, and a user manual. It also includes a hard-shelled carrying case with foam outlets for instrument and its accessories. Unfortunately, the case is pretty large, so it's not optimal for storage.
In India, we have various customers from Mumbai, Delhi, Bangalore, Chennai, Hyderabad, Ahmedabad, Kolkata, Surat, Pune, Jaipur, Lucknow, Kanpur, Nagpur, Visakhapatnam, Indore, Bhopal, Patna, Vadodara, Ghaziabad, Ludhiana, Coimbatore, Madurai, Nashik, Srinagar, Aurangabad, Dhanbad, Allahabad and Ranchi in India.